The Turbodisc* system is a fully automatic system designed for side-stream cooling tower applications. It removes sand, silt, dirt, sediment, as well as airborne contaminants like seeds, algae, bugs, and leaves. It has advantages over sand style backwashing systems in that it uses a fraction of the backwash water.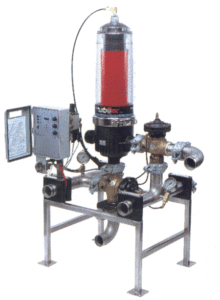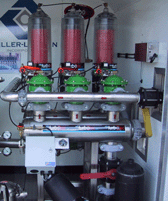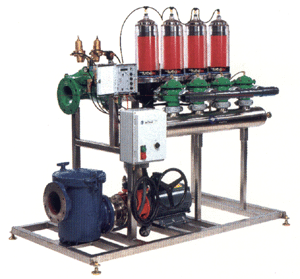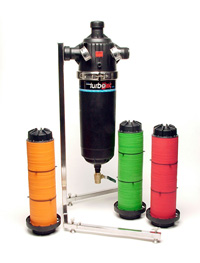 Backwashing can be performed in a little as 10seconds using only 3.5 gallons of water when using option air sparging equipment. A minimum of 45 psi is required for backwash. Optional pressure boosting equipment that operates ONLY during backwash is also available.

CLICK HERE FOR MANUAL MODELS ONLY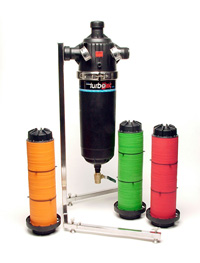 Standard equipment includes:
1) Automatic filter/disk cartridges;
2) Stainless Steel inlet/outlet Manifolds;
3) Auto-backwash Valves/Solenoids;
4) Backwash Controller;
5) Stainless Steel leg assembly;
6) Pump and motor starter relay;
7) Pressure maintaining valves;
8) Skid assembly can be stainless or plastic;
9) Air-override feature to enhance backwash efficiency.
Options Include:
1) Isolation valves;
2) Pump pre-strainers;
3) Air compressor.
Tech Data
FLOWRATES

Single Pod
depends on loading
Dual Pod
100 gpm ea
Triple Pod
125 gpm ea

MICRON SIZES AVAILABLE

100 micron
130 micron
200 micron
custom

PRESSURE RATING

150 psig

MATERIALS OF CONST

Filter Housing
Polyamide
Filter Disks
Polypro
Inlet/Outlet/legs
304 SS
Backwash valves
Bronze or cast
Solenoids
304/brass/or plastic
Voltage(solenoid)
12VDC or 24VAC
Pump & motor relay
120/220
single or 3 phase
*Manufactured by Miller-Leahman, Inc.
Distributed by Advanced Water Engineering, Inc.
PLEASE E-MAIL US WITH ALL OF YOUR WATER TREATMENT QUESTIONS!! WE'LL ANSWER THEM ASAP
CLICK BELOW TO SEE INFO ON OUR AUTOMATIC BACKWASHING MICROFILTRATION SYSTEMS