Seawater desalination (water purification) can be accomplished easily by high pressure Reverse Osmosis. AWE SWPRO systems are available as a complete frame mounted assemblies for large boats or land based installations or as component kits for sailboats or tight places. They are available as drinking quality units or purifiers. Since purifiers produce water that is very pure (LSI is less than 0), plumbing and components MUST be plastic or non-corrodible only. Product water from drinking quality units can be used with plastic or metal plumbing.
The following described units use Cat Brand pumps. Other brands or materials of construction are available. Units are standard with 5 micron filtration. We can size additional filtration if necessary.
Storage tanks can also be purchased at https://advancedwater.com/polyethylene-water-storage-tanks/. We can also size repressurization skids for distribution with UV, Ozone, Chlorine, or Bromine disinfection.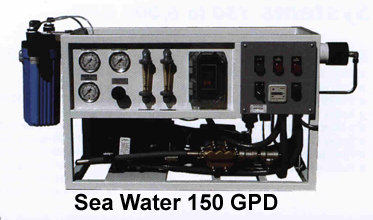 | | |
| --- | --- |
| STANDARD FEATURES | OPTIONAL FEATURES |
| TFC Seawater Membranes | 316 ss pump |
| Corrosion resistant triplex pump | 50 Hz motor |
| 316 ss High Pressure tubing | Low Pressure Switch |
| Safety Pressure Relief valve | Flow Meters |
| 5 micron sediment filter | TDS monitor/controller |
| Epoxy Coated 304SS Frame | SS Frame |
| Fiberglass Membrane Vessels | Prefilter Pressure Guages |
| Automatic Feedwater Shutoff | Chemical Dosing systems |
| 316 ss pump standard up to 600 gpd | Automatic Permeate Flush |
| | Manual fresh water flush |
| | Automatic fresh water flush |
* SPECIFICATIONS TO CHANGE W/O NOTICE REV:5/2000
FOR MUCH MORE INFORMATION PLEASE E-MAIL: info@advancedwater.com