Our SAFE-D-SCALE will remove Calcium, hardness, and other scale products easily without the worries normally associated with Inhibited and non-inhibited Hydrochloric Acid descalers. One can pour this descaler into their hand and dissolve pieces of scale without harm. SAFE-D-SCALE will not harm steel copper or other base metals.
SAFE-D-SCALE is:
Non-hazardous
Non-toxic
Biodegradable
Non-corrosive
Our descaler products are specifically designed to safely and rapidly dissolve all water-formed fouling deposits (such as rust, scale, lime, calcium, marine growth, etc.) from any water-operated equipment.
They're completely safe for use in all types of commercial kitchen equipment or any institutional application for deposit descaling operations.
They may be safely flushed down regular sewer systems with a water flush.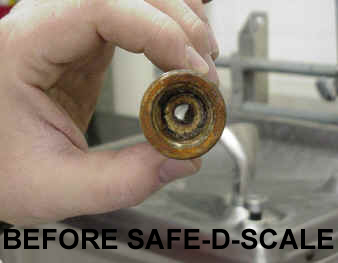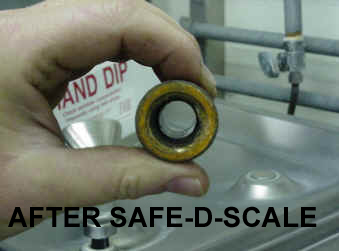 SAFE-D-SCALE IS ROUTINELY AVAILABLE IN ONES, FIVES, AND 55'S. PLEASE CONTACT US ABOUT CARBOUYS, TOTES, OR BULK SHIPPING.
CLICK HERE FOR APPLICATIONS LIST
CLICK HERE FOR SPECIFICATION SHEET